Heywood Funeral Service is proud to offer a host of sustainable funeral options thanks to our eco-friendly coffins and caskets.
Eco-friendly funerals that 'do their bit' for the environment, can have all the dignity and tradition of a more conventional funeral – you can simply choose one of our beautiful, eco-friendly coffins.
---
Cardboard Coffin
One option that we offer is a 'cardboard coffin'. This is carried within a traditional wooden 'outer' to give the impression of a hardwood casket. However, before burial or cremation, the outer shell would be discreetly removed. This leaves the sturdy cardboard coffin, which is much faster to decompose than its wooden counterparts.
It is also a cost-effective funeral option.
---
Willow Coffin
Heywood Funeral Service also offers the option of a strikingly beautiful willow coffin, handmade in the UK.
These traditionally weaved caskets are made using so little energy that they are a truly sustainable option. They use less energy during cremation and are fully degradable if buried.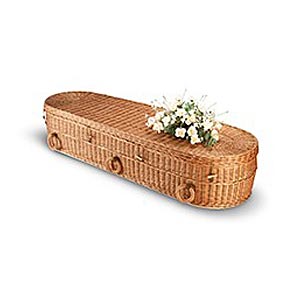 ---
Bamboo Coffins
Our bamboo coffins are another alternative to traditional caskets and, again, offer a very sustainable funeral solution. They are made in responsibly managed facilities in China, using purpose-grown bamboo that is nurtured in specially licensed plantations and not eaten by pandas.
Again, these beautiful caskets decompose more quickly than traditional coffins and their carbon footprint is minimal.